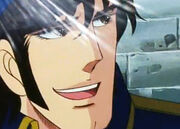 Alain de Soissons is a fictional character in the anime The Rose of Versailles.
After his father's death, Alain helped his mother to raise his beloved little sister Diane as much as he could, enrolling in the military. Diane committed suicide after her fiancé married a rich woman just days before their marriage.
Alain was the sergeant of the Company B, the troops assigned to Lady Oscar's service in the National Guard. He accepted Oscar at first, and even befriended André and smuggled him in the troops, but after learning the truth about her, he violently rejected her leadership. Oscar had to fight him to win Alain and the group's respect back, since they refused to be ordered around by a noble. After losing to Oscar and begging her to save the life of a companion who was about to be executed, which she did, Alain forgave Oscar and became fiercely devoted to her, even falling in love with her in the manga; still, he knew he couldn't fight against her feelings for André.
Ultimately, Alain survives the French Revolution and the Terror, becoming a major character in Eikou no Napoleon – Eroica.[1]
References
Edit
Community content is available under
CC-BY-SA
unless otherwise noted.